Classic Motorcycle Day (CANCELLED)
July 5 @ 10:00 am

-

5:30 pm
EVENT CANCELLED
Due to popular demand it's back for a fourth year! Crich Tramway Village and the Vincent Owner's Club welcome pre-booked classic motorcycles built prior to 5th July 1995.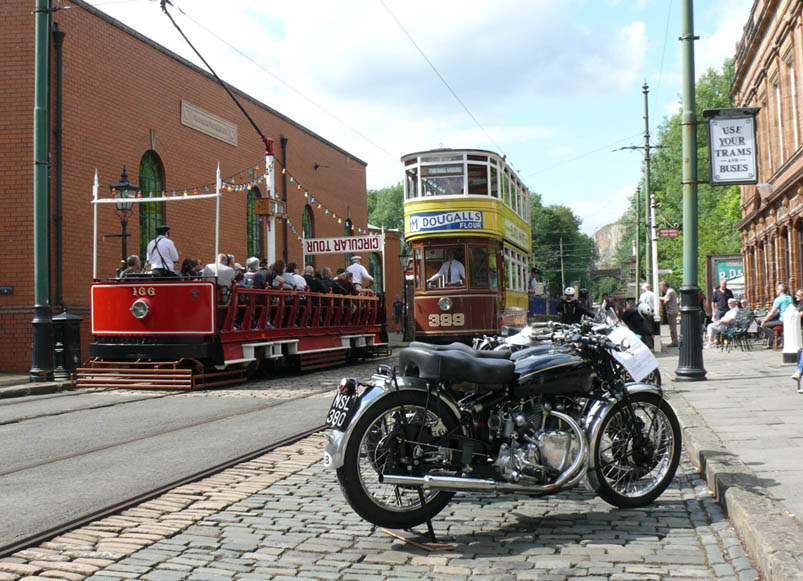 Visitors can enjoy the amazing spectacle of classic motorcycles from around the world and vote for the 'Best in Show'.
Vintage trams will be in operation rumbling along the period streets. Download the leaflet here: Classic Motorcycle Day Leaflet
If you wish to exhibit a classic motorcycle, please download the booking form and return by Monday 29th June 2020.
For those arriving on modern motorcycles, these can be parked in the car park and we offer a discount for entry. Download the booking form here: Non Classic Motorcycle Visitors Form 2020 and return by Monday 29th June 2020.
Met Office Weather Forecast for today
Please note:- all event listings are correct at the time of addition to this website, the TCCD accepts no responsibility for event detail changes and it it the responsibility of the individual to check with the event organiser BEFORE they go to an event.  Where available a link to the organisers website or contact details have been provided on this site and it is the responsibility of the individual to use the contact details to check with an organiser BEFORE the event.
LET US KNOW ABOUT AN EVENT NOT ON OUR CALENDAR -If you know of an event not on our calendar then please e-mail either our club Chairperson or our Rally forms coordinator.  Please remember to give us as much detail as you can such as – Date, opening times, location, organiser, contact details, website etc etc.